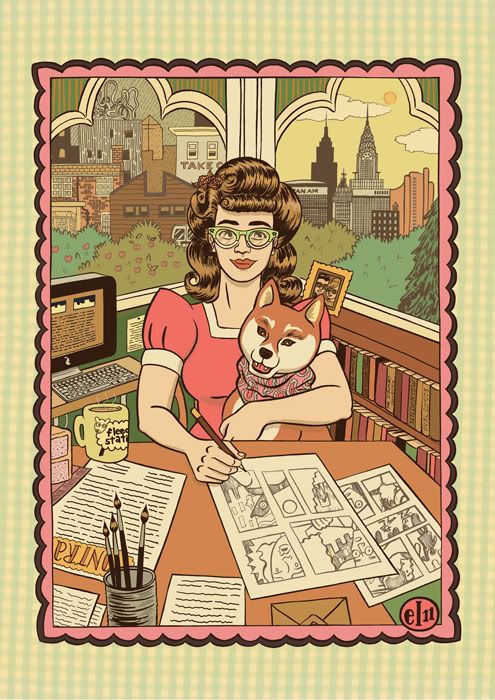 I'm so pleased to say I've been invited to take part in a massive show of self-portraits by independent (and choice mainstream) cartoonists: The Orbital Self-Portrait Show! Curated by Camila Barboza, this show will comprise of original self-portraits by such varied talents as Kristyna Baczynski (and you know I love her work because I've written about it before), Tom Humberstone, David O'Connell, J. Homersham, Sammy Borras, Adam Cadwell and many more. The opening party is the evening of Sunday, 18th September - for those of you who are around (I'm hoping to be!) it's the first chance to see a really great show.


My self-portrait is informally entitled "In an Ideal World" because it depicts me doing some, for now at least, impossible things: owning a dog, living on a fold in the space-time continuum which unites New Cross and Manhattan, and having perfect 1940s hair. A girl can dream, innit?


For more information please visit the Orbital events page - there may even be enough time for you to catch their current show, collecting work from the amazing British free newspaper Stool Pigeon! (That Krent Able, man...what a pen!)


In other news I'm officially tabling with the aforementioned O'Connell (that's
tozocomic to you) for the upcoming Thought Bubble festival, this 19-20 November in beautiful Leeds. We had such a great time last year, Dave and I, he had a moment of lunacy and asked me to share again. Can't wait! I'm also hoping to stop by Page 45 again...it's always fun to check in with the gents there. Plus, cake!


See you in the lovely North!